Scott's L.A.™ Article:
The Pasadena Advantage
A quick glance at the map tells a big part of the story, Pasadena is in the center of everything. It's half-way between Disneyland and Magic Mountain, and it's only 15-minutes from downtown L.A., Hollywood, and Universal Studios.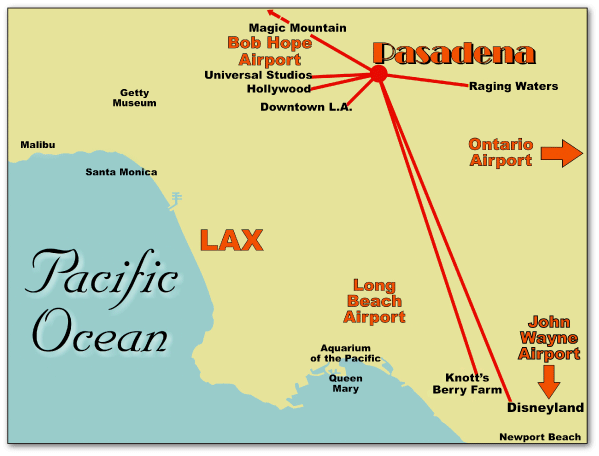 (Click here for the Scott's L.A. Article on L.A.'s 5 Airports)
The rest of the story can be found in Pasadena's neighborhoods and people. Los Angeles can be pretty fast-paced, but Pasadena is a slower, quiet oasis in a beautiful location with excellent food, great shopping, and an exceptional variety of things to do. Pasadena is one of the prime examples of how to Spend Less, Drive Less, and Enjoy More in L.A. because you have so many choices in one small area. To put it into perspective, you can have a good meal for two in Pasadena for what it costs to park in Beverly Hills or West L.A.
People used to think Pasadena was home of the "little old ladies in tennis shoes." In fact, most people rarely think of Pasadena at all. Visitors frequently tell me that Pasadena is a secret "hidden in plain sight" because it has so much to offer, yet so few people seem to know about it. Recently, however, the secret has been getting out. Old Pasadena has become one of L.A.'s social "hot spots" because of the large variety of great restaurants and fine shopping.
You can have a great meal (from super-cheap to fine-dining) then walk just a couple of blocks and see the original paintings of Van Gough, Monet, Cezanne, and Picasso at the Norton Simon Museum. Walk a couple of blocks in the opposite direction, get on the light rail and go directly to the heart of downtown L.A. and Olvera Street. Or, continue on to Hollywood to the Hollywood and Highland Center, Grauman's Chinese Theater, and the Walk of Fame -- all without spending a dime on gas or having the hassle of driving or parking.
Pasadena is not the L.A. you expect. Pasadena and neighboring communities are home to the jungles of Jurassic Park, Anaconda, and Fantasy Island, home to the Jet Propulsion Laboratory (J.P.L.), birthplace of the Mars rovers and the heart of America's un-manned deep-space program, home to Santa Anita Race Track where Sea Biscuit galloped into history, and home to Southern California's greatest hidden treasure, the Huntington Library & Gardens.
Think about it: if you stay in Pasadena during your visit, you're close to all the action and attractions of L.A., but you can "come home" and relax in a beautiful, quiet environment and have all the choices you want "right in your own back yard."
Finally, you probably don't know it, but you see the Pasadena area all the time because it's Hollywood's biggest "back lot." Hundreds of movies & TV shows are regularly shot here including American Pie II, Back To The Future (see the Scott's L.A. Article on Back to the Future location), Beethoven I & II, The Girl Next Door, Halloween, Jurassic Park II & III, Old School (see the Scott's L.A. Article on Old School filming), The Sting, Teen Wolf, The Terminator, The Wedding Planner, Alias, C.S.I., Cold Case Files, J.A.G., and The West Wing to name just a few.