Scott's L.A.™ Hollywood History Article:
Hollywood & Highland
QUESTION: What's with those big white elephants and the "Pharaohs" up on top of the Hollywood & Highland Shopping Center ?
| | |
| --- | --- |
| | |
| Hollywood Boulevard Entrance | "Pharaoh" & Elephant |
ANSWER: It's a tribute to Hollywood history. In 1916, legendary Director, D.W. Griffith, created the largest movie set ever built, reported to be 300-feet tall from the lowest level to the top. It was built for the "Babylon" sequences in his film Intolerance: Love's Struggle Throughout the Ages, (also see IMDB link) which is now available on DVD. The set was abandoned after the film was made but it survived into the 1950's, located just a few miles east of Hollywood & Highland, at the point where Sunset Boulevard and Hollywood Boulevard come together.
THE 1916 ORIGINAL: This still photo from the film shows what the elephants and Babylonian kings (not Pharaohs) looked like when they were new. Today, they are faithfully recreated at Hollywood & Highland. It also gives you idea of how BIG this mammoth set was, those are actors standing on top of the wall. There are hundreds more actors on the steps below.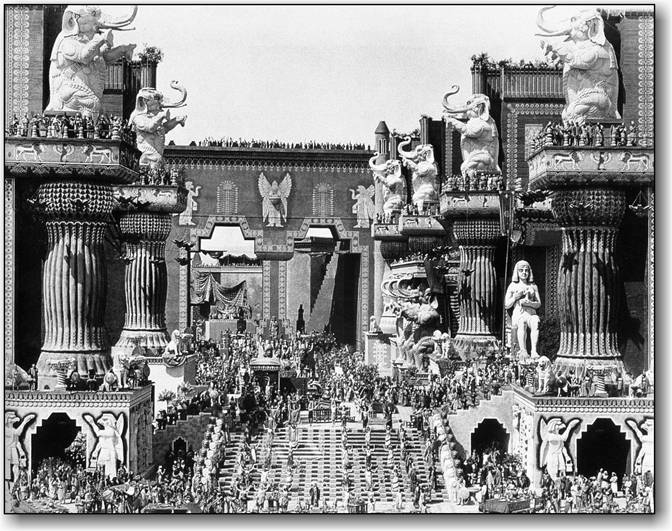 TODAY: You can take a Metro Red Line train here (Speed, Volcano, & The Italian Job) from Union Station in downtown L.A. directly to Hollywood & Highland. This shopping center contains the Kodak Theater (Academy Awards®, American Idol®), and public tours of the theater are available.

Just to the left of Hollywood and Highland, is the world-famous Grauman's Chinese Theater with dozens of actors' hand prints, foot prints, and autographs in the cement in front of the theater.

Parking is available in the garage under the Hollywood & Highland center and it's fairly inexpensive.