Scott's L.A.™ Article:

Driving instructions to the Observatory are in the "Griffith Park" section of the Los Angeles CD.
The Observatory is FREE to the public, but there is a charge for shows inside the Planetarium. Click here for prices, show times, or other updated information.
One of the great L.A. icons is the Griffith Observatory. It's the big building with the three domes, up on the hill, just to the right of the Hollywood Sign.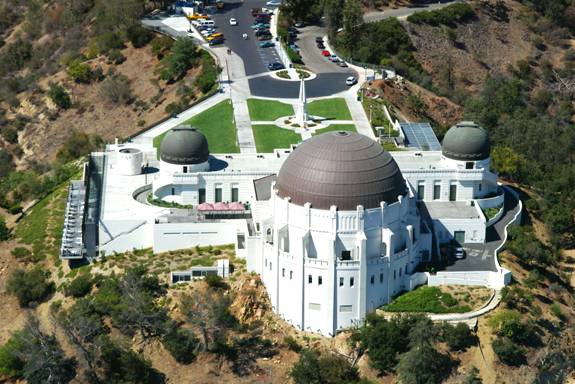 Movie fans all over the world recognize it because it was featured prominently in the 1955 James Dean classic, Rebel Without A Cause. In 1991 it was featured in The Rocketeer with Jennifer Connelly and Bill Campbell. In 1999 Steve Martin featured it in his film Bowfinger with Eddie Murphy.
Because it's such an iconic building, and because it's used in so many movies, we frequently forget that it's also a wonderful observatory. The telescope up on the roof is open to the public year-round. More people have viewed the skies through this telescope than any other telescope on earth. The outside balcony below the Planetarium dome is also a favorite for "locals" to view L.A. by night.
Early in the 21st Century the Observatory was closed for several years for extensive remodeling and updating, including the addition of a new café, outside eating area, and the Leonard Nimoy Event Horizon Theater, funded personally by Leonard Nimoy, "Mr. Spock" himself. Many of us who live here were worried that the remodeling and updating would change the outward appearance of this classic building -- but it remains the same and looks better than ever!

Photos by Scott
The Observatory is an L.A. favorite. The new café allows you to enjoy a relaxing cool drink, coffee, or munchies in a beautiful setting. The outside seating area also give you a wonderful view of the Hollywood sign just a few hundred yards away, right at eye-level. This is a great photo spot, and a wonderful place that shouldn't be missed. Bring your camera!