Scott's L.A.™ Hollywood History Article:
The Hollywood sign is the image of L.A. probably most well-known around the world, and it has a fascinating history.
NO, you can't drive to it, walk to it, or even climb up to it. For the moment, let's forget about the rattlesnakes, poison oak, and the dangerous, steep terrain -- there are TV cameras and motion sensors that monitor the sign and you'll be arrested if you attempt to go there!
However, our Scott's L.A. Hollywood Audio Tour will guide you directly to the wonderful photo spot below.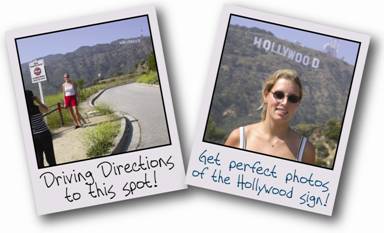 Driving directions to take your photo HERE
included on the Scott's L.A.™ Audio Tour of Hollywood!

As a bonus, this place is right next to the former home and gambling den of gangster Bugsy Siegel, which was later Madonna's home for a while. Like many celebrity homes, you can't see much of anything from the street because of trees and other obstacles.
| | |
| --- | --- |
| | |
| The house seen from the street. | The house seen from the air. |
| | |
| --- | --- |
| | CAUTION: These are private homes. Never bother or photograph the occupants. As long as you stay on public streets or sidewalks it is legal to take pictures of buildings. Bothering homeowners, photographing them, or walking on their property, creates a host of legal problems you do not want or need. |
There are a lot of great stories about L.A., and some of them are actually true. My favorite story about this house is that the tower on the roof was built for armed guards to protect Bugsy's gambling activities inside the house. The tower and location at the edge of the ridge gave Bugsy's guards a clear view of anybody trying to gain access from the canyons.
But apparently they were not looking north to the next-door neighbor's place which is what the cops used to storm the place and bust all the gangsters & gamblers.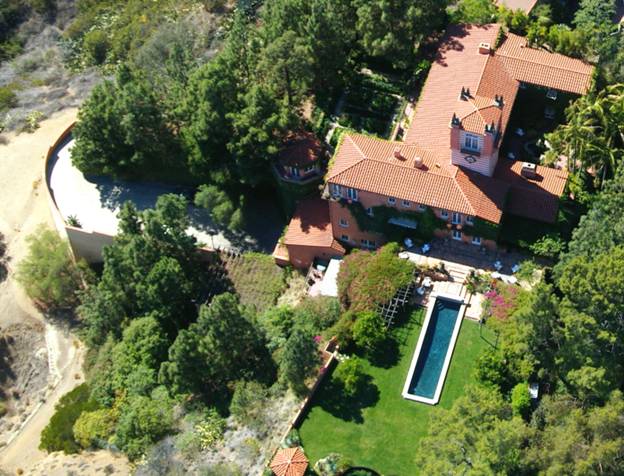 If you want to see the interior of the Madonna / Bugsy Siegel house, it was used in the final shoot-out scene in Eddie Murphy's original Beverly Hills Cop.

The photo spot for the Hollywood Sign is on the street to the left of the Madonna / Bugsy Siegel house [below left]. The Hollywood sign is to the north, but when you turn around and face south, you can see Lake Hollywood [below right] and downtown Hollywood beyond that. When skies are clear you can also see the Pacific Ocean from here.
When Madonna owned this house, she and her security team could be seen jogging on the fire trails south of her house that go along the canyon and around Lake Hollywood. This is a popular place for people from all over L.A. to go jogging, including visitors. And when they do, they've got a great view of the Hollywood sign.

Photos by Scott