Scott's L.A.™ Article:

The TV series "HEROES" has become a huge worldwide hit, and one of the key establishing locations in the pilot episode is right on the route of our Pasadena Audio Tour CD.

The Location
This is the house where Officer Matt Parkman (Greg Grunberg) discovers his power of hearing people's thoughts, then rescues Molly Walker (Adair Tishler) from under the stairwell.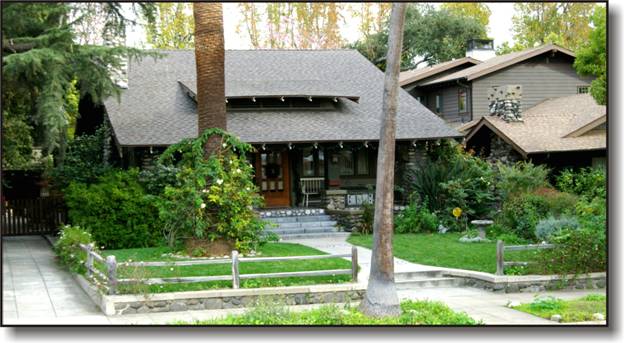 The 2-Hour pilot is on the Season 1 DVD set of "HEROES." If you rent or buy the DVDs, you can see this scene on Disk 1, Episode 2, Chapter 3 (Elapsed Time: 0:27:09).
NOTE: On the DVD you'll see the Los Angeles skyline directly over the roof, but in reality there are only trees as you can see above. The skyline was digitally composited into the scene (superimposed) to reinforce the idea that this takes place in L.A.

How to Get There
This location was used after we recorded the Movie & TV Locations portion of our Pasadena Audio Tour CD which guides you along the BLUE line shown on the map below. To see the "HEROES" location, simply take the 1-block detour indicated by the RED line.
| | |
| --- | --- |
| | CAUTION: These are private homes. Never bother or photograph the occupants. As long as you stay on public streets or sidewalks it is legal to take pictures of buildings. Bothering homeowners, photographing them, or walking on their property, creates a host of legal problems you do not want or need. |
(PRINT OUT THIS PAGE to help you find this location while on the audio tour.)
Go past the "Forever Young" house on Oxley, go to the stop sign at Brent. Turn RIGHT after the stop sign and go to 1018 Brent. There is usually on-street parking if you want to stop and take pictures.
When you're ready to leave, turn LEFT on El Centro. When you go 1 block to Fair Oaks you'll be able to see the Rialto Theater (described on the CD) to your left.
Turn RIGHT on Fair Oaks to return to Pasadena.