Scott's L.A.™ Article:
Airports - FIVE in the Greater Los Angeles Area

A common belief is that L.A. only has two major airports. In fact, there are five airports to serve you, and choosing the right one can allow you to drive less – much less! The map below gives you a rough idea of locations for comparison, but check a Thomas Guide® or other map, or see our (

MAP) links below for precise details.
Hover your mouse pointer over the icons on the map for more information.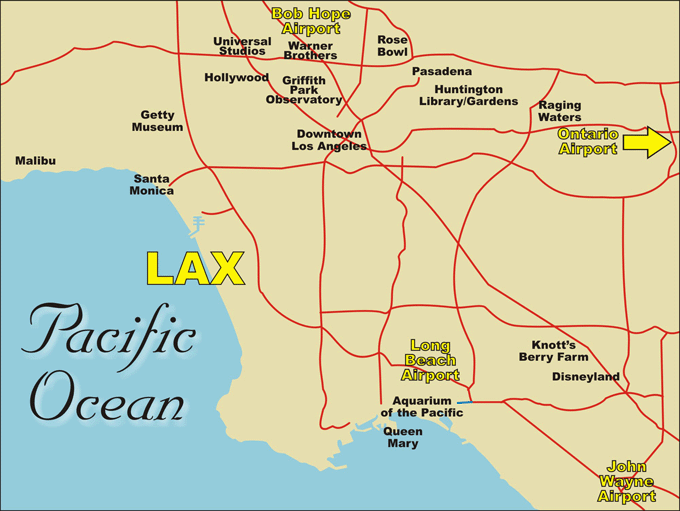 Before booking a flight, determine what you want to do in L.A., this is the key to driving less.
Second, look at a map and compare the airport locations with the locations for what you want to do.
Third, check flight availability, not all airlines fly to all airports, and this may vary from time-to-time.

If the only thing you're going to do in L.A. is visit Disneyland,
then the John Wayne Airport (

MAP) in Orange County is your best bet.
If Pasadena and/or Hollywood are your primary interest,
the Bob Hope Airport (

MAP) in Burbank is your best bet.
If you're coming here for business in Downtown or the West Side,
then LAX (

MAP) is your best bet.
* NOTE: Almost nobody in L.A. can tell you distance in miles, virtually everybody calculates distance it minutes, the time it takes to get from "Point A" to "Point B," and this varies depending on the time of day. Distances that appear short on maps can take hours when the freeways get crowded during commute hours, and some freeways are notoriously bad such as the 10 (Santa Monica), 405, and I-5 south (Santa Ana) in Orange County. Conversely, places like the Ontario Airport (

MAP) or the Long Beach Airport (

MAP) may appear far away on a map, but the commute time to where you want to go may actually be less. So, above all, do your homework before you book a flight and you'll be able to drive less and enjoy more!